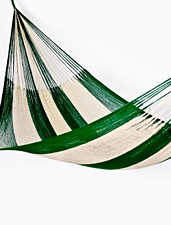 Let's look beyond the holidays...
You'll need some sun. You'll need some sand. You'll need a drink floating in a fruit.
And at all costs, you'll need a hammock.
Maybe one that benefits humanity...
Introducing
Yellow Leaf Hammocks
, hammocks made by an endangered nomadic tribe of hammock makers, available now for your lounging needs.
It was all started by a guy who describes himself as a hammock connoisseur (apparently, that's a thing). He visited Thailand, and came across the weavers of the Mlabri tribe (a people who'd seen better days) and their hammocks. He got all kinds of ideas about sustainability and micro-economies, cultural preservation and... look, all that really matters is, at the end of the day, you're about to be up one hammock.
As for the hammocks: well... picture a hammock. There you have it. They come in a bunch of wild, Thailand-like color combinations and feature the latest in anti-flop technology. Oh, and they have a three-person option (which is one of the top sentences you'll read all year).
So flash forward to your coconut-rich, postholiday getaway. All you've brought are sandals, two fetching hammock-integrity testers and this thing.
It would also look great in your office.