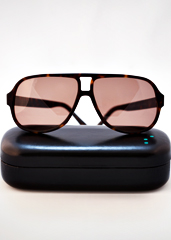 It's getting to be that time of year.
The time when you drop everything, grab a swimsuit and sunglasses, and head to the islands.
Oh, and you should feel really, really good about those sunglasses.
Welcome
Shauns Shades
, a local, do-gooding sunglasses label that'll gift a pair of glasses to someone in need every time you buy a pair of shades, available online now.
Now, we realize Shaun and his shades didn't invent this method—you're probably familiar with Toms, where for every pair of shoes or sunglasses you buy, they give a pair to a child in need—but this is a case where more is better.
You should know that while these are handcrafted in family-owned factories at the base of the Alps in Italy, they're designed here in Oakland. And since everything is done online, and you can't actually try them on, there are some work-arounds.
First, you'll use a virtual mirror by uploading a headshot and clicking glasses onto your face. Once you narrow things down—like between the angular aviators known as the
Jura
and the oversized teardrop
Arran
—you can order both, try them on at home, then ship the pair you don't want back, gratis.
If you happen to be in Palo Alto this Saturday, you can sample their wares at Lux Eyewear. And by spring, you'll be able to buy these glasses in stores around the city.
Although, there's something about that virtual mirror...