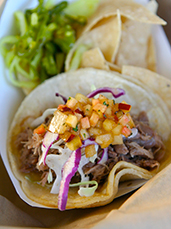 On the first day of Christmas, your true love gave to you...
A roast-turkey-and-cranberry-sauce taco.
Note: you don't have to celebrate Christmas—or be in a long-term relationship with the Komida chef—to eat a pile of crazy holiday tacos. Just read on.
Introducing
12 Days of Tacos
, your chance to celebrate the holidays with some casserole, fruitcake and "reindeer" tacos, kicking off tomorrow at Komida in Hollywood.
Because more holiday traditions should really involve tacos, you'll head to a very special Hollywood patio for lunch tomorrow. Every weekday for the next 12 days, you'll find a different holiday-taco special on the menu for $4, kicking off with, yes, roast turkey and cranberry in a tortilla shell. Just like Mom never made.
Over the coming days, you can come back for
Grandma's Green Bean Casserole
tacos (December 12),
Rudolph the Red-Nosed Reindeer
tacos (grilled venison with ginger-cherry salsa, December 20) and "
Fruitcake" with Figgy Pudding
(December 21).
And since this is a nondenominational affair, the grand finale is basically... a Reuben taco. Think pastrami and sauerkraut in a rye-seed tortilla.
No word on a partridge-and-pear-tree taco.