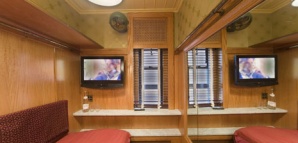 Sailors, wayward youth, drifters, grifters, miscreants and con men.

These aren't your people, and you're really not looking to change that. But that doesn't mean a shrine to the grand olde boarding hotels of New York can't find a way into your heart.

Pushed to the edge of Manhattan lies The Jane, a slightly ramshackle manse that Sean MacPherson and Eric Goode (Maritime Hotel, Bowery Hotel) hope to return to its former anti-glory. And herewith, we bring you news that the first 20 rooms are now available for rent.

Know this: The rest of the place is a...work in progress, but walking into the Jane, you'll immediately be sucked into a mildly decadent, romantic vision of Old New York—think Royal Tenenbaums meets the Chelsea Hotel. The rooms are tiny (think Japanese capsule), the bathrooms are communal, but the rates are only 99 bucks today, which makes them perfect for stashing your crazy cousin or just maintaining a crash pad next to Socialista.

Over the next few months, the common areas and rickety hand-operated elevators at the Jane may just become the new home of hipster mayhem: first in the two-story lobby bar—reminiscent of the Bowery Hotel's epic terrace—then on the huge panoramic rooftop with views of the Hudson and, finally, in a basement pool restored to its original 1920s YMCA heyday.

Not including the Village People.