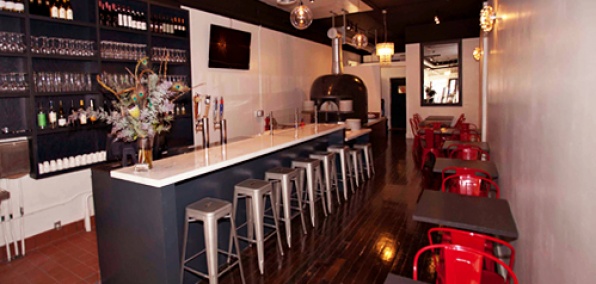 The 50s are back.
(Just to be clear, we're talking degrees, not decades.)
Which means it's time to fold fireside dining back into the equation.
And in our book, a massive, 1,000-degree wood-burning stove counts.
Welcome
Mozzeria
, a sleek uptown pizzeria churning out blistered Neapolitan pies in 90 seconds or less from the Ferrari of pizza ovens, opening Friday on 16th Street.
Now, before we go on, we would be remiss not to mention that this is from the first deaf restaurant owners in the city. How this will affect your charred pizza experience: well, not at all.
They were smart to keep the space mostly black and white (aside from bright-red chairs) with an art deco feel. So when you walk in, your eyes will naturally focus on the 5,000-pound, black-tiled pizza oven at the end of the marble bar (if it seems familiar, it's because you've seen the turquoise version at
Una Pizza Napoletana
).
These guys aren't kidding around with pizza, so you'll want to take over the two bar stools closest to the oven and start with two pints of New Belgium's Snow Day winter ale.
You'll spy perfectly charred Margheritas, but also get nontraditional pizzas—something like roast duck and hoisin sauce wouldn't be out of the question.
It's not exactly the right answer, either.