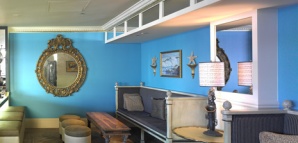 Your three days off will be great. Maybe you can even take a little trip. How does Jamaica sound? Or better yet, Oakland.

Introducing Miss Pearl's Jam House, a reinterpretation of the Phoenix Hotel's popular 1989 tropics-themed spot, opening Wednesday in Jack London Square.

With rooms full of old books and stuffed curio cabinets, Miss Pearl's initially looks and feels like your eccentric great aunt's estate, but the island vibe takes hold when you pull up a stool at the jewel- and shell-topped bar (an icebreaker like no marble bar could ever be).

Order a sipping rum, like the 15-Year Renegade Rum aged in Chateau Latour barrels, and surprise your date with the Miami Vice, a layered strawberry daiquiri/piña colada parfait. If those go down easy, proceed to the Jello Shots; that's right, your favorite '80s rum-infused treats are updated with fresh fruit purees, but served old-school in plastic cups. (Let the retro hedonism begin...)

You'll also want to check out the outdoor patio, where you can lounge by the lapping waves of the Caribbean—er, Bay—as you work your way through some Jerk Chicken or a few Mini Skirts with Nice Buns (that's skirt steak sliders).

If you prefer to extend your getaway, book a room next door at the Waterfront Plaza hotel.

Or better yet, make a weekend out of it.