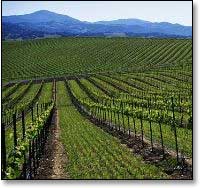 As the movie SIDEWAYS taught us (if you didn't sleep through it), a little wine knowledge can go a long way. What better way to stir romance than simultaneously intoxicating her with your wine-speak and a few glasses of the Dionysian grape?
For those in the budding stages of courtship—read: unready to commit to the whole weekend getaway—the
Dutchess County Wine Trail
is the perfect day trip
—
easy on the wallet and a lot more romantic than a picnic with Boone's.
The rolling green hills along the Hudson make the trip north (under two hours by car) a relaxing break from the city: drive past red barns and cow pastures. Start at
Alison Vineyards
sipping samples in a barn's stone basement, surrounded by French oak casks (try the 2001 Chardonnay Diana and change things up with a little sangria), then snack on goat cheese and pastries at the adjacent farm. Head to
Clinton Vineyards
for rolling acreage for their award-winning cassis and suggestively titled dessert wines (Romance, Embrace and Desire). Finally, end atop the
Millbrook Winery
at sunset overlooking the entire valley—ask for the reserve tasting, featuring the limited vintage 2002 Central Coast Pinot Noir.
Whether it's the witty conversation, breathtaking summit view or the excess consumption that's gotten to her head, you may both end up seeing sideways.