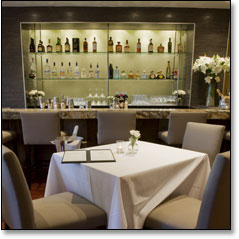 In a vast city like Los Angeles, your most memorable nights are rarely contained by one spot.
And if they are, it's likely that the one spot...is actually more like three. Welcome to
Apple Restaurant
, opening Friday in a West Hollywood triplex that will keep you busy with food, drink and (no objections here) some scantily clad women.
After you stroll up a glass-walled staircase at the front, you'll step into a simple dining room whose focus, rightfully so, is on the waterfall-backed bar. But if you're on a date, you'll want to enjoy your
Pan-Roasted Florida Frog Legs
on the large walled-in patio...which also has a giant street-adjacent cabana that's perfect for the private feast you're arranging for you and your 15 worthiest friends.
But your night doesn't end with impressive dining (the chef, who's the son of Bradley Ogden, got a Michelin star in Vegas—kind of a big deal). The exclusive
Apple Lounge
is also open in the basement, complete with a red-apple disco ball and paparazzi-print wallpaper in the bathrooms. And it's safe to say you'll be checking out the building's third spot when it opens in a few weeks—
The Pussycat Dolls
Lounge
, with its own troupe of talented (by which we mean flexible) performers.
Because all your nights require some flexibility.