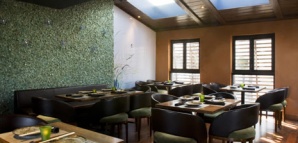 In these uncertain times—USA vs. China, Roseanne Barr vs. Angelina Jolie—it's hard to argue with a little unity.

So you're glad to see east and west come together in that most important arena: the kitchen. Say hello to Sushi on Sunset East/West Fusion.

If you're having a case of déjà vu, we're with you—before this location was briefly known as Empress, you knew it for years as...Sushi on Sunset. But everything inside has evolved, so consider this new version an homage to the original, rather than an exact re-creation. (Sort of like Gus Van Sant's Psycho. Except good.) Step inside the first level for a seat at the corner sushi bar or a table by the front wall of lit window screens—at night, your shadow will play across that screen to passersby outside. (Lucky them.)

Upstairs is a more formal dining room (though by "formal" we mean "completely casual") where you can focus on ordering sushi rolls or Striped Sea Bass with Asian Paella. And to finish, you'll probably want a Soup and Sandwich (that's an ice-cream sandwich, to be dipped in cold strawberry soup).

Maybe Roseanne and Angelina could split one while they work things out.