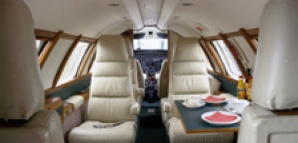 While you may not have gone out and purchased your own jet yet because, well, you don't want to deal with the hassle of parking it or gassing it up,
V1 Jets
is the next best thing.
V1 introduced a new Seaplane and a Hamptons route just in time...for the end of summer. Nonetheless, you'll want to keep this in mind for next summer as your $700 roundtrip flight will include such amenities as Portable Sony Playstations, gourmet food, and a deluxe gift bag (including a $400 platinum vibrator—this could be the best thing ever or a large problem depending on who you're sitting next to).
Until next season, use V1 Jets as your private jet-share for getaways—enter your trip info at the V1
site
and jet charter companies place bids (no obligation to accept). The average bid for a light jet (seating six) runs around $1,800-$2,500/hour. Fly out of JFK, LaGuardia, the 34th Street heliport, Monticello or the Pier 11/Wall Street heliport and go almost anywhere in the world. You can book up to five hours before a desired takeoff, perfect for those spontaneous trips to Miami.
V1 Jets has now also become the official airline of Bungalow 8, which means that you can party into the wee hours and then hop on one of these planes to continue into more party-favorable time zones. No word yet if passengers will be greeted by a stern-faced doorman.