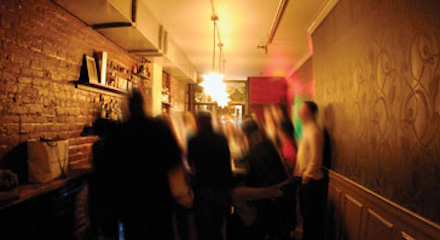 The cocktail is dead.
Now, do 
not
 panic—debauchery is alive and well. But when Sasha Petraske—the guy who stoked your love affair with the modern-retro cocktail at legendary speakeasies Milk & Honey and Little Branch—unleashes an anti-cocktail bar, well, the cocktail may be dead. Let us explain...
White Star
, opening tonight on the LES/Chinatown blur line, is Petraske's new absinthe, aperitif, beer and wine pub. No muddling, no infusions, no tinctures, no gooseberry/unicorn hair simple syrups. Just all of your favorite sipping hooch, neat or on the rocks, collected behind a marble bar.
Which means you'll be dropping in early and often. Be warned: It's a tiny sliver of a bar shoehorned in next door to a $10 clairvoyant, so you'll want to stake out your territory early or late (or both). Come for a pre-
Allen & Delancey
Pierre Ferrand at the front bar, or settle into Table No. 2 (trust us, it's where you want to hide out) for a post-Box absinthe comedown.
But maybe best of all, White Star is basically a one-man show. In a Momofuku Ko-type move, you'll see the man himself step back behind the bar for the first time in years. And he's running the joint British pub-style: Petraske is the barman, bouncer, waiter and sage storyteller.
And you are the new regular...