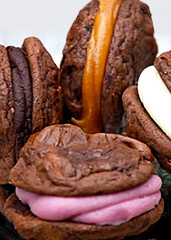 Let's fast-forward a few days.
The wine: decanted. The turkey: basted. The thanks: about to be given.
The dessert: ...
Well, that was actually your job.
Which is unfortunate, considering the last pecan pie you baked involved a Thursday morning trip to Publix and a woman named Sara Lee.
And we just can't have that, can we...
Enter the
Black Box Dessert Club
, a crack team of confectionary-minded ladies who live in the Internet and ship boxes of pumpkin spice brownies and peanut butter macarons to your door on a monthly basis, available now.
It's a monthly dessert club. But more importantly, it's a monthly dessert club that makes you look charming and thoughtful when you forget to do that on your own (or if you never made it past Easy-Bake Oven status).
So the next time you're called upon to lend your culinary talents to the feast, you'll go online and pick one of six boxes instead. The contents change from month to month, but expect a holiday-friendly smorgasbord of desserts from boutique shops all around the country (including chocolate from Cacao of Inman Park/VaHi/Buckhead fame).

There's the Grand Box with things like Vietnamese cinnamon sugar popcorn and sea salt caramel truffles, and the Petite Box with anything from honey lavender marshmallows to German chocolate brownies. Or you could just eliminate the guesswork and customize your own.

It's like being thoughtful, only smarter.