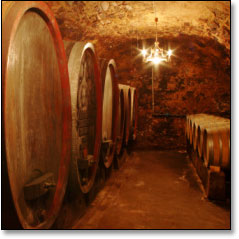 You've had most of the wine the city has to offer, but you've never quite found the taste you're looking for. Something rich, seductive, playful...and yours.
Allow us to suggest a solution that doesn't involve a large land purchase in Tuscany. Tribeca's
City Winery
, the shortest path between you and a barrel of your very own vino, is now accepting memberships.
City Winery is the first fully operational winery in the city—meaning you can craft your own barrel of wine without leaving the island. With your wine master's help, you'll sift through varietals, oak barrels for aging and even the kind of bottle, label and cork to adequately express your masterpiece. (We suggest a tasteful self-portrait.)
After a year, you'll end up with 260 bottles to use however you like: Drink them, sell them or try to get them on the wine list at Le Cirque. The whole process will set you back eight grand or so (that's around $30 per bottle), but it's a small price to pay for greatness in a bottle. And right about the time your wine is maturing, you'll have the inside line to the in-house wine bar and private tastings where you can share the fruits of your labor with fellow barrel-owners. There'll even be a restaurant, in case you want something that goes with red...
At the very least, they'll have a killer wine list.