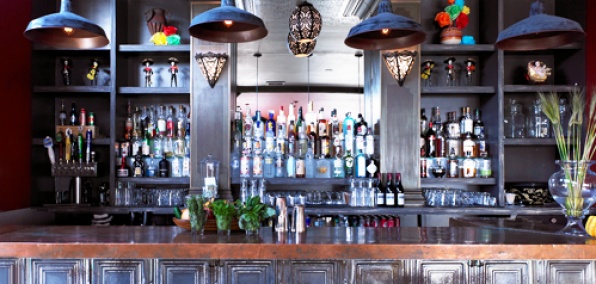 12:57am. You're on 9th and Folsom.

Exactly nine minutes ago, you watched a midget ride a unicycle through the dance floor of a club you now can't remember the name of.

You need a hot dog.

But you're on 9th and Folsom.

Here to bring late-night food to SoMa: Azúcar Lounge, a cozy, Latin-inspired lounge and late-night taco/hot dog sanctuary, now open.

At first, you'll find yourself here, late at night, with a plate of tacos, sitting in one of the half-dozen plush sofas (we recommend the brown corduroy one in the corner under the hanging chiseled-wood door), wondering if what you think just happened actually happened. But soon enough, the achiote-marinated pork tacos and copious amounts of tequila will coax you in for happy hour, too.

The tractor-seat stools at the copper-topped bar are more comfortable than they look, and they're a good starting point for ordering cocktails—like the Perlas de la Amazonia, made with rum and coconut water (never too early to start replacing electrolytes).

At that point, plush comfort will beckon, so take over one of the sofas and settle in. From there, skip the tacos, ceviche and quesadilla options, and order the hot dog known as Sonoran—think bacon, beans and cheese.

Now, back to that midget...