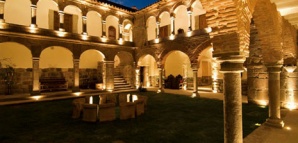 In a rush to scramble up the famous temple at Machu Picchu, most travelers cruise right through Cusco, the gateway city to all things Inca.
This simply leaves more luxury for you...
Cusco's first boutique hotel
, La Casona Inkaterra
, takes a few lessons from the
conquistadores—
the masters of Old World luxury in New World beauty. Just opened a few steps from Cusco's central square, La Casona is a renovated colonial manor—one of the first Spanish buildings on the Incan capital's soil. And while its eleven rooms wrap around an original courtyard built more than 400 years ago, its iPod docks and heated floors are distinctly 21st-century.
From your colonial mansion, you'll explore the
Sacsayhuaman
Inca fortress (putting in face time with the Sun God), drop in on the local shaman and river-raft down the Sacred Valley, winding through the towering peaks of the Andes. Or get up above those mountains with a visit to the adrenaline-boosting, Indiana Jones-style
Q'eswachaka
hanging bridge.
And if you just
have
to get your picture taken peering down on the Lost City, you can always pop over to Inkaterra's
Machu Picchu resort
for the night.
Then again, you've never been one for the beaten path.