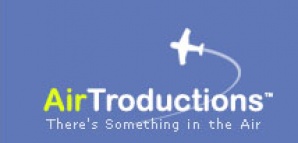 You stow your bag in the overhead compartment and start checking out the on-flight cocktail options when you look up to see your flight mate.


The Fantasy
: A voluptuous honey slides into the seat next to you. She just got out of a serious relationship and is looking to have some fun. She's also nervous about flying—do you mind if she turns to you for comfort during turbulence?
The Reality:
A sweaty, obese man clambers in, complaining about the weather in Cincinnati. He sneezes repeatedly, informing you he has an airborne virus. Later, he falls asleep, snoring, with his head on your shoulder and hand on your thigh.
If only there was a way to take the element of chance out of flight travel.
Now there is.
Airtroductions
is a way to clock up digits and Frequent Fliers miles on the same trip. The idea came to creator Peter Shankman after he sat next to Miss Texas on a flight from Houston to New York, on what he calls a "fun flight." Most of his other flights, surprisingly, were not as fun, so he decided to create Airtroductions to make everyone's odds a little better.
The website allows you to create a
traveler's profile
, complete with a personal descriptions, stats, a picture and an "
I'm more comfortable with
" checklist (tick off options like "Prada" or "Levi's," "Vodka Martini" or "Beer"). Once you enter your flight information, you are connected with all of the other site members on that plane. You can pre-scope, pre-flirt, trade seat information, and end up with your own in-flight entertainment.
If, sadly, the pickings are slim and your flight consists mostly of screaming kids and married accountants, take heart: You can still rack up a few miles by arranging a cabshare.