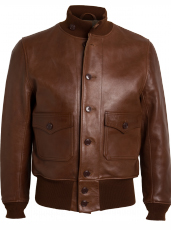 It's a classic tale.
A husband-and-wife team. Loves motorcycles. Rolls that love into a... clothing business. Knocks it out of the park.
Well, it's a classic now.
It's called
Bench & Loom
, and it's an all-purpose site of drool-worthy classic men's jackets, bags and the occasional vintage hog, online now.
So say you're planning a little road trip—something about "going home" and "giving thanks." Naturally, you'll require a quarter-million-dollar Brough Superior bike to get you there. And, of course, a Chapal leather biker jacket to wear while you ride. And a French-designed "luxury helmet" to protect your dome. Oh yeah, and definitely a Garbstore Royal Air Force–style cardigan for... you know, under the jacket. For all of those things, you'll come here.
What you'll also find: "Men of Character," where you'll see a field coat that looks like Hemingway would've hunted in it, amidst images and stories about Papa himself. (Also, a goatskin bota bag right out of
The Sun Also Rises
.) There's also "Phoenix Project," where they'll take an iconic movie—say, James Dean's
Giant
(the film, not his oft-rumored seven-foot manservant)—and choose some prime style pieces from it, which you'll then vote on. The piece with the most votes will be commissioned for a limited-edition run.
Ron Burgundy's maroon blazer: only a matter of time.