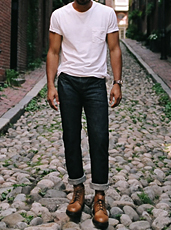 Japan.
Known for its ancient culture, fine rice-based wine and, of course, an affinity for creating killer denim.
Problem is, locating quality stuff can be difficult. Unless you have an online portal to do that. That also carries the occasional twill vest.
Introducing
Boylston Trading Co.
, a just-launched-in-beta online retail shop for denim, fisherman's sweaters and outerwear, available now from the guys behind Karmaloop.
To get started, you'll want to think of this as... well, just what it is. An online menswear retail site, which also has an editorial component (think: interviews with lifestyle photographers and fashion designers). But let's be honest—you're here for the threads.
About those threads: they've curated a selection of everything from rugged carpenter-y jackets ideal for doing non-carpenter-y things (tapered, slimmer fit, good for going out) to Japanese workwear button-downs and jeans (call it Carhartt by way of Tokyo). For the impending nastiness of winter, they've also got Italian-fabric
goose down jackets
, and
fleece field jackets
from Alpha Industries Japan (again, great for going out).
In a few months, they'll even be opening a brick-and-mortar, by-appointment-only retail boutique for in-store shopping of some of their choicest stuff—located right on Boylston Street.
In case you feel like putting on some clothes to shop.