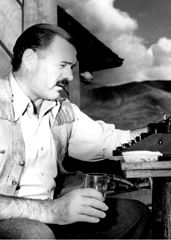 We're lovers. You know that. But every now and again, something comes across our desks that just seems... suspicious. Because of the tremendous material upside to all our lives if these claims pan out, we at times put ourselves in harm's way to investigate. Albeit skeptically.
We call it: Skeptical Investigation. (Copyright pending.)


THE CLAIM

That the Cuban Interests Section (the de facto Cuban Embassy) has started slinging rum drinks and cigars from a bar named after Castro's favorite American expat. It's called the
Hemingway Lounge and Bar
.
THE INVESTIGATION

We got a sneak peek last week, so we made our way past the guard at the iron gate, up the red-carpeted stairs, into a gilded ballroom, and there it was. There was actually a bar here before, but now it's been spruced up, with a massive replica of Hemingway's signature over it, along with vintage photos of Hemingway. Its specialties: drinks made with embargoed Havana Club rum. And even-more-embargoed cigars.
But back to that imposing iron gate: the Cuban spokesman let on that this isn't exactly a place you can drop in. In fact, it's mostly an invite-only spot for diplomats and friends of Cuba.
THE VERDICT

This is absolutely the kind of place that you'd like to while away some late-night hours practicing détente over some mojitos or
Hemingway Daiquiris
, but you should set your mind now to sucking up to all the right diplomats. If you're not tight with them, you probably won't get in. Then again, you could always name-check Fidel.