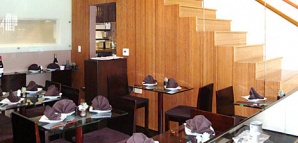 So you got tied up. Can't make it to Beijing.

Luckily a bit of China has now come to you—Joss Cuisine is now open (again) in Beverly Hills.

If the name sounds familiar, that's probably because you've dreamt before about Joss's Golden Roasted Peking Duck, which was something approaching legendary for a couple of decades...back when the relatively roomy restaurant lived at the tail end of the Sunset Strip. Now that you're dreaming of gold medals instead, you'll find the same organic-minded chef holed up in a drastically different New York-style version of the place—and by New York-style, we mean lively and really, really small. (So it feels like a secret, for now.)

With just a few tightly packed tables beyond an easily missable front door, Joss is the kind of spot where you and your date will order some wine and get friendly with your neighbors pretty quickly—partially because you can't help but notice the scent wafting from their Ginger Scallion Noodles, and partially because they're practically in your lap.

Not that you can blame them.