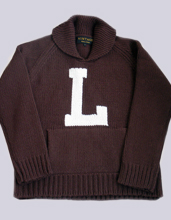 It's a very special time to be alive.
The heart of college football season.
Also: the heart of sweater season.
Combining those two majesties:
Gameday Sweaters
, collegiate sweaters that hark back to preppy campus autumns of yore, available now.
Imagine if Holden Caulfield was obsessed with college football instead of phonies, and you'll get the idea. (It's a stretch, but stick with us.) It's the kind of stuff someone of an earlier age might have watched Jim Thorpe in: heavy knit wool, shawl collars and simple first initials on the chests indicating your unending dedication to "L."
Now, we'd be remiss if we didn't tell you that, as of now, they only have four schools sweaterized (there's never been a better time to go to/have gone to Lehigh, Monmouth, Wagner or Kutztown), but they're planning more and they've got some handsome non-branded versions as well.
So here's how it'll unfold: you'll be at the big Harvard-Yale game (or, you know, Troy at North Texas), or out on rough seas off the coast of Edinburgh, and you'll feel a chill. Your
electric socks
can only do so much. You'll finish the fight song and your hot dog (watch out for mustard stains) and slip this thing on.
Tebowing is totally optional.