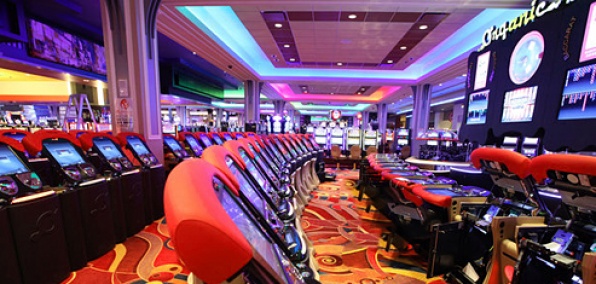 Until this weekend, the local gambling scene consisted of:
Instant scratch-offs.
C-grade health-inspected sushi restaurants.
High-stakes mah-jongg with your nana.
Then it snowed.
And when the weather cleared, we made a shocking discovery.
There's a casino in Queens.
Introducing
Resorts World Casino
, New York's first subway-accessible vice den/slot orgy, now open.
Before you start conjuring up images of 460-foot-high fountains and extreme gold leafing, it's important to remember a few things. This place is in Ozone Park, it's attached to a racetrack and the lounge act is Celine Dion's fourth cousin twice removed. So yes, this place is strictly for scratching only the most pressing pai gow itches.
What you won't find here: Rain Man suites, tiger-assisted magic shows and multi-floor mega-clubs with names like Rendezvous. Also, human dealers.
See, in order to circumvent some pesky state gaming regulations, the tables are presided over by robots. Real cards, real stakes, but the arms doing all the shuffling/craps-raking are of the cold, steel and mechanical variety.
And if you're holding out for the ideal time to spring your infallible baccarat strategy (hint: it involves an abacus and magnets) on the machines, we suggest waiting until next month. That's when the high rollers complex—complete with its own steakhouse, heated terrace and champagne-stocked-limousine chauffeur service—debuts.
As if there was really any other kind of chauffeur service.