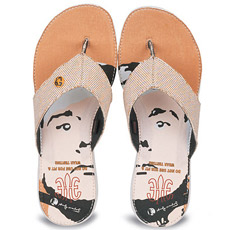 A true artist can make art out of anything. Warhol preferred soup cans and Brillo boxes. You, on the other hand, toil in a far more precious commodity—summer in Chicago. And once Christie's figures out how to auction your work, you'll be set.
Until then, the months of marching through street fests, backyard barbecues, Oak Street Beach parties and Lollapalooza weekends have left you with a desperate need to change your smock—or, at least your shoes.
Introducing
Andy Warhol flip-flops
, the most stylish way to send off summer.
The MCA-worthy footwear by Royal Elastics is part of the company's line of Warhol estate-licensed streetwear. And while they may take inspiration from a 1960s-era Andy self-portrait silkscreen, we think they really say more about you.
They have a playful side—put them side by side to see the entire portrait. But they also have a discreet side—the image is basically covered when you slip them on, so no one has to know about your Superstardom until you want them to.
Another secret: The only place in town you can get them is P+L Boutique, which happens to be in the midst of a clandestine summer sale. Mention the sale at the counter—perhaps in the form of a fake cough—and you'll get 20 percent off today through Friday.
Consider it money saved for more paintbrushes...