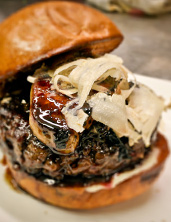 Excuse us.
We couldn't help but notice. You seem like the type of person who might want to hear about Umami's totally secret and completely outlandish new burger parties.
Yes—thought so.
Introducing
The MNO Burger
, Umami's pricey off-menu burger topped with truffles, foie gras and port, available now for wildly irresponsible burger parties around town.
Say you and 50 friends are going all-out for Thanksgiving, and turkey is so... expected. Or maybe you've got the company card to thank a couple dozen young clients for a great year—and they've already done Spago, thanks.
Time to call up your friendly neighborhood Umami. The burger's grass-fed Wagyu, of course, only this one's topped with a hefty slab of foie gras. And about a quarter-inch of shaved truffles. And a rich '77 port reduction sauce. The price tag—you may want to look away for this part—is $100 per burger. (The "MNO" stands for "money's no object.")
And they're not available for just anybody. You have to call a manager at your location of choice and set up a private party in advance—if there's at least 25 of you, they'll carve out a section of the restaurant for what's about to go down, or if you're more than 50, they'll happily bring it all to your place.
Yes, you want fries with that.