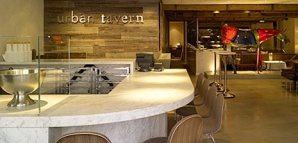 You've witnessed some unique combinations in your day. Bacon and ice cream. Lindsay and Samantha. Puggles.

One fusion you likely haven't seen: Urban Tavern, a new gastropub that's like a glitzy French Riviera restaurant with rustic Jackson Hole nuances. It opens Thursday in the Hilton Union Square.

Brought to you by chef Laurent Manrique (Aqua, Fifth Floor) and featuring a $13 million interior designed by Donna Scala, Urban Tavern isn't your ordinary hotel haunt. (This will sink in right about the time you lay eyes on the life-sized metal horse sculpture, welded together from the parts of a car, a motorcycle and a tractor.)

Grab a seat at one of the saddle-shaped stools by the long, marble-topped bar and ask for a Bellini (sorry, no moonshine here) or a glass of wine (the list includes some 125 vintages, with 25 by the glass).

In true gastropub spirit, you can order the full Mediterranean-inspired menu from the bar, but if you're more than a twosome, head to a booth in the dining room, or claim the enormous (16-seat) communal table. Start with a selection of charcuterie and duck prosciutto, then move to an entree like beef braised in red wine.

Okay, so it's a little more French Riviera than Jackson Hole...