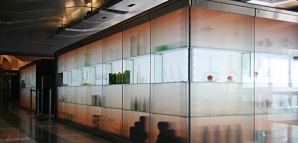 You're well-acquainted with the pleasures of wine, but those pleasures haven't changed much in the past few hundred years. The top notes have stayed nutty, the hangovers have stayed vicious, and the sommeliers have stayed...human.
But that's all about to change. The sommelier part, anyway.
Welcome to
Clo
, a futuristic new take on the wine shop opening this weekend, discreetly nestled on the fourth floor of the Time Warner Center.
Just find your way through the maze of escalators—and past Per Se and Masa—to a frosted glass box at the top. (You'll know it from the sci-fi glow and waft of merlot.) Inside, a stunner view of the park and twelve automatic wine-dispensing machines wrap around the room. Snag a pre-paid card and then do what you would with an ATM—only instead of wads of cash, you'll be flush with wine: A single swipe will get you a two-ounce mouthful ($2 a pop at the low end to $70 a swill on the high). If you like it, you can get a bottle to go.
Of course, to you it's more than just a shop—show up after a hard day of work to blow off some steam and do some serious "tasting." The shop's also got its own
Minority Report
-style interactive menu, which you peruse by waving your hands all around the place—you know
the drill
. Since the computer does the thinking for you, you should end up with the perfect pinot.
And no human error.