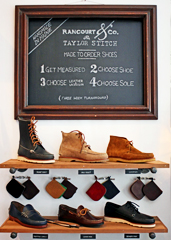 Quick, look down.
We need to talk about your feet.
Actually, that came out weird. Truth is, we just saw some shoes you would like...
Introducing
Rancourt & Co. for Taylor Stitch
, a made-to-measure collaboration between the Maine-based shoemakers and the hometown shirt guys, launching Tuesday at the Common.
So Taylor Stitch. You know
these guys
. Rancourt: you should get to know them. Maine-based. Make shoes for Ralph Lauren. Make a mean lobster bisque. (That last part might be made up.)
This is like a choose-your-own-adventure for shoes. You'll start by determining which of the six styles you want—a chukka boot, maybe, or a loafer. Then, you'll select one of 30 types of leather—navy saddle leather out of Chicago, perhaps. Finally, you'll pick a sole (leather, gum, Vibram) and laces, even details like the eyelets and stitching around the shoe.
We went ahead and crunched the numbers. Turns out you can design at least 2,700 different shoes at this place. (You'll probably want to limit yourself to 1,827 or so.) Whatever you go with, it'll likely be a variation on the "dockside stroll in New England" theme. (You like that theme.)
But if you need help (say, defining what a Vibram sole is), drop by Tuesday, when the guys will be on hand and offering gratis cocktails.
You never shop without whiskey courage.