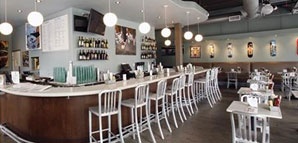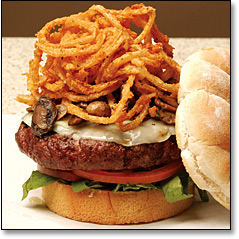 You've always enjoyed a fruitful and promiscuous burger life, but lately things have gotten a bit...stagnant.
Our suggestion: Experiment a little—a new outpost of the famed burger-and-beer palace
The Counter
opens today in Marina Del Rey.
Though this one's a lot more marina-adjacent than the Santa Monica original, you'll find the same system you know and love upon entrance. Take a seat at a table by the windows, or at the counter along the back, and you'll be presented with a clipboard to help you create your meat-centered masterpiece from the bottom up.
To start, just check off your meat of choice and the size you want your patty—easy enough. But then you'll really have to stay focused when it comes time to select your cheeses (
Gruyere
,
Herbed Goat Cheese Spread
), your toppings (
Dried Cranberries
,
Hard Boiled Eggs
) and—before your head starts spinning—your sauces (everything from
Country Buttermilk Ranch
to
Spicy Sour Cream
to a
Ginger Soy Glaze
).
Supposedly there are more than 312,000 possible combinations, so to take the edge off you'll probably need a drink or two.
Or 312,000.