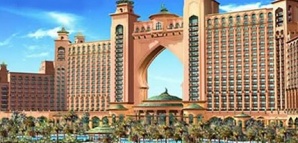 You may love Dubai. You may hate Dubai. But as a continent-hopping surveyor of the world (and a riveting water-cooler conversationalist), you consider it your duty to know what's new there.

So you'll want to know about this. Introducing: Atlantis, The Palm.

The long-awaited Atlantis marks the first hotel opening on Palm Jumeirah—that palm tree-shaped, man-made island decorating the Arabian Gulf. Situated at the island's very tip, every one of the 1,539 rooms in the striking Arabesque-style Towers commands a view of the waters, or the architectural marvel behind you (not a bad deal either way).

True to its aqua theme, the Atlantis boasts the Middle East's largest water park (with a 100-foot near-vertical plunge), an 11-acre dolphin bay (with 28 bottlenose beauties she'll love) and a labyrinthine series of aquariums with everything from jellyfish to sharks swimming right at you. And with 27,000 square feet of designer shopping, a bi-level spa in the Towers, double-starred Michelin chef Michel Rostang's eponymous brasserie and—lest we forget—the world's newest Nobu, there's no reason to return to Tribeca.

While you'll have to wait until next month to hit up the Towers, they're taking reservations now—so you can rest easier, knowing that the Imperial Room is all yours.

After all, Atlantis is known to be unpredictable.