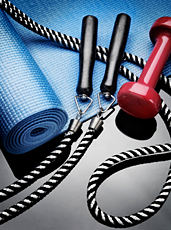 You owe the Irish a great debt of gratitude.
First, for the whiskey. Second, for the soap. Third, for the Bono.
But perhaps most importantly, for letting you row in their living room tomorrow.
Welcome to
Anatomically Correct
, a BS-free private gym secretly stashed in a SoHo apartment building where you'll listen to Dylan deep cuts while training with an Irish guy named Mike, accepting session reservations now.
Think of this as your new home gym... that's been outsourced to someone else's home. That someone: a former cyclist/competitive indoor rower (the aforementioned Mike) with a working knowledge of old Soviet deadlifters and a willingness to buzz you into his building any time you want a workout.
The vibe of the place: your dad's den during the fall of 1975. Aging Olympic posters, old cast-iron kettlebells, restored vintage Nautilus machines (he swears they work better) and a whole lot of Beatles playing on the stereo.
Downstairs, you'll have a weight room full of meticulously maintained equipment from a bygone/Schwarzenegger-in-
Conan
 era. Also, a curious lat pull-down contraption called "The Big Wheel." Upstairs is an indoor rowing studio that's linked up to the Internet, so you can race in real time against people across the globe.
The online amateur coxswain community is a fiery one.