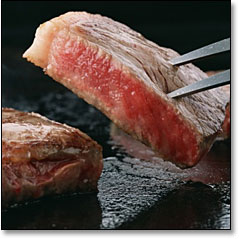 There are so many monthly clubs vying for your membership, we can barely keep track. Wine-of-the-Month. Book-of-the-Month. Jelly-of-the-Month. The list grows longer with each trip to the mailbox.
But in terms of succulence, all of them (yes, even jelly) take a backseat to
Marin Sun Farms' Meat CSA
, a community-supported agriculture program that is now accepting new members.
Marin Sun Farms is a meat-of-the-month club with a conscience, sort of like Omaha Steaks meets Farm Aid. As a member, you support local farmers by purchasing "shares" of future livestock, and in return you receive a monthly package of grass-fed, open-pastured, glorious red meat.
It's a six-month program, and you can choose from various weight tiers (5 to 24 pounds) of beef, plus well-raised chicken, pork, lamb, goat and sausage. You can also order, at a discount, supplemental items like bacon, raw butter and dog food—because Ribsy cares about the independent farmer, too.
Each month, Marin farmers will butcher, cryo-vac and deliver your meat to the freezers of the designated pickup spot (right now, it's at Polarico), where you'll have a week's window to collect them. At that point, you're free to savor them whenever and however you'd like.
Although we do recommend you pair them with your knife-and-fork of the month.