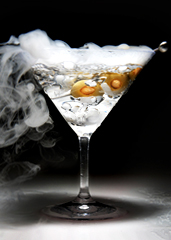 The dark, foggy corners of Victorian London. A great setting for gory murders. Hideous monsters cooked up in laboratories.
Also: dinner.
Well, on Halloween weekend, anyway.
Introducing the
Ode to Offal
, a one-night costumed dinner that delves into the macabre (on your plate as well), taking place October 30 at
the Queen Vic
and accepting reservations now from UrbanDaddy readers.
Basically, if you got Dr. Frankenstein and Dr. Jekyll together and asked them to come up with a tasting menu,
this is what you'd get
. And they'd have rules, too. Like: 1) costumes are mandatory (and no, your usual Afro wig and sunglasses won't cut it); and 2) there's only so much we can tell you, so they maintain some level of surprise.
What we can reveal: you'll head upstairs at the Vic, already done up like a Victorian library for cocktails amid a Gothic scene of tombstones and skulls (note: your drink may be smoking with dry ice).
Then it's on to four courses of, um, adventurous eating, along with beer pairings. Think
Grilled Heart
,
Blood Cake with Fried Duck Egg
and
Cow Brain Ravioli
. The service: well, let's just say it may involve medical devices.
After dinner, over a few more smoldering cocktails, you can join in a few old-school games like bobbing for apples.
At least, let's hope they're apples.