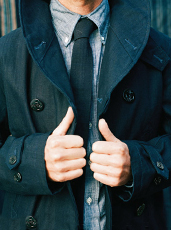 It's finally happened.
They've put together a new A-Team. A modern-day Ocean's 11. Except instead of working as vagabond soldiers of fortune, or knocking over Andy Garcia's casino, they're making your clothes.
And they're making them all blue.
Introducing
Unionmade Indigo
, a team celebration of the color blue in the form of denim, shirts, bags and so on, available online now.
You already know Unionmade. They've been a pillar of the rugged side of your wardrobe for a couple of years now. And for this, they've brought in some accomplices: Gitman Vintage, Golden Bear, Raleigh Denim and Don Cheadle. (Okay, not Don Cheadle.)
It's all American-made stuff you might have seen on guys panning for gold out west a century and a half ago (the really stylish ones). We're talking about tough selvage jeans from a legendary mill in North Carolina, vests that look like they've seen things and oxford shirts that might come with a railroad spike.
And all of them are made with a natural indigo dye that fades and ages into every possible shade of blue. We see you in your usual visionary role, using this as an opportunity to introduce denim ties and overdyed bandanas into your life. Or to reach for the stars with a full-on Canadian tux.
You've always had a soft spot for Canada.