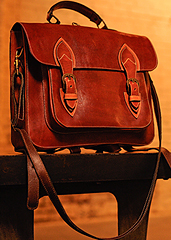 A couple things you want to avoid when it comes to the bag in your life:
1. Looking like you just came from your paper route.
2. Looking like you just came from the man-purse store.
And if it can last you until 2050, even better.
Presenting
Sandast
, a new line of LA-based bags designed to brave the elements and get better-looking over time, available online now.
One thing's for sure: these bags are gonna hold up. The company gets its materials from one of the oldest tanneries in America, which means its Latigo leather is used to tie saddles together, and some of its other leather is similar to the stuff that the NFL uses for its footballs (if it can stand up to Ray Lewis, it can endure Culver City).
Plus, all of these bags are hand-treated with a secret mix of grease, water, sand and fire to ensure they can take a beating and still look great for decades. In fact, don't be surprised if these bags start to look better with age (just like your crow's-feet).
They've currently got 16 different bags to choose from (with more on the way), but you'll want to zero in on the multifunctional
Sandra
, which easily shifts from a briefcase to a messenger bag to a backpack.
Perfect for your courtroom/film set/Runyon Canyon Wednesdays.