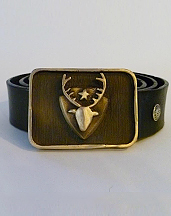 All right, sit down. And take a deep breath.
We have some late-breaking news that'll forever change your world.
Or at least slightly impact the way you hold up your pants.
Presenting
Metalcast Kits
, a kit that allows you to design your own bronze belt buckle, available now.
Yes, it's true: thanks to one master foundry man in LA, you can turn your sculpting talents into a beautiful piece of art—one that also looks great with leather and denim.
It all starts with you receiving a kit with what we assume are the standard buckle-designing tools: two wax slabs (think of this as your canvas), a candle and two carving knives. Once your masterpiece is carved, you'll ship it to Cali. Here, they'll work their magic, and three weeks (and a quick polish) later, your buckle will appear at your door.
It's obvious when you would use this. Okay, maybe not, so here are some ideas: as one of 20 accessories for your Russell Brand Halloween costume. As a first-place prize at your annual rodeo competition. Or just because you feel like it's time you got a damn belt buckle with your nickname on it.
"Thor" does look pretty nice when it's bronzed.