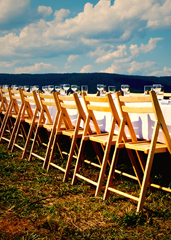 It's happening.
The hot weather's lifted. The glorious subtropical climate has finally redeemed itself.
From now on, it's all about pre-Thanksgiving pool parties, December barbecues and generally reveling in the pleasures of a nonexistent winter.
So don't mind us if we skip ahead a few months to what will probably be one of the most delicious nights this season.
That would be
Outstanding in the Field
, a roving supper club making a pilgrimage to the city's only goat farm this January, with tickets for its feast on sale now.
Your hosts for the evening: goat herder Hani Khouri and Sustain chef Alejandro Piñero. These two know things. In Khouri's case, mostly things about cheese. (And goat's milk. And goat's milk ice cream.) In Piñero's case, things about duck poutine fries, homemade sausages and fried chicken. The menu hasn't been decided yet, but we're betting that plenty of the farm's homegrown bounty—like Khouri's tomatoes, herbs and
Papaya
Wild Orchid Ice Cream—
will figure prominently.
So picture yourself smack-dab in the middle of Miami's agricultural south, getting comfortable with your date at a long communal table set for 130 surrounded by the sounds of night, nature and... 15 Nubian goats. There will be wine. There will be meeting new people. There may be some impromptu goat herding...
Nothing breaks the ice like goat herding.