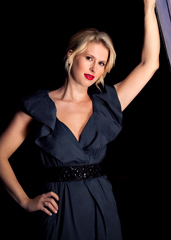 The restaurant: charming.
The repartee: witty.
The nightcap at your place: all but guaranteed.
The snag: you neglected to stock up on one tiny, crucial item. Well, not that tiny, actually—you can't exactly make your deal-sealing Manhattans without good cherry-bark vanilla bitters.
So meet
Femme du Coupe
, a service dedicated to turning your home bar into your own personal Violet Hour.
The woman behind Femme—that's her in the blue—essentially serves as stylist for your bar. With experience at both Marc Jacobs and places like Gilt Bar and Union Sushi, she's uniquely suited to making sure your drink cart is as stylish as your closet.
First, she'll sit down with you to gauge your tastes, interests and demeanor—preferably over dry martinis. No pressure. But yes, it's a test. She's assessing the type of drinker you are.
She'll also determine whether you drink your champagne from coupes or from flutes, what kind of weight you like in your rocks glasses and if you're appropriately stocked to properly serve your famous glögg this fall.
Then it's time to go shopping. She'll open your eyes to a world of small-batch bitters, the latest in boutique moonshine and the vodkas most preferred by pouty Russian models. She'll also leave you with a notebook full of her most secret cocktail recipes, to get you started.
Go on, let it fall into the hands of the Russians.