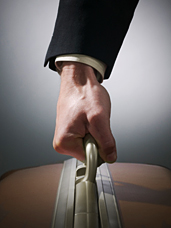 Having a briefcase is a big responsibility.
Especially when it contains classified documents, incriminating Polaroids and the world's only copy of Fitzgerald's unpublished sequel to
The Great Gatsby
. Also a pack of orange Tic Tacs.
So we've enlisted the aid of a former counterterrorism agent...
Introducing
Cubby
, an extremely overqualified private courier service that'll pick up, watch and deliver your personal possessions, available now.
The easiest way to explain this: laptop day care. Or a bag check without a building/store/hotel/front door attached. All from a guy who's military trained and a pro with suspicious packages.
You'll use this the next time you're away from home and stuck lugging a little something extra. Gym clothes. Golf clubs. Semolina baguettes from Eataly. You can either arrange for a courier to meet you around town, or for something truly valuable (again, the baguettes), bring it to them yourself.
Stop by their Park Avenue storeroom—think walk-in closet meets Fort Knox. (More locker locations are on the way.) Drop off your cargo. And at the end of the night, you'll have two options: 1. come back before midnight for a pickup, or 2. have it biked/driven to a specific location.
Driver will wear a scorpion jacket upon request.