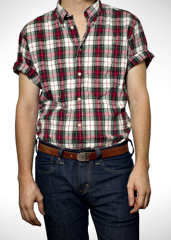 You can just feel it.
That slight nip in the air. That subtle shift in the morning sun, now downgraded from Hades-like to warm glow.
Yes, fall is here. Or at least our version of it.
Which makes it a good time to introduce you to a new source for crisp autumnal gear:
Vintage Mavens
, a local purveyor of, yes, vintage gear and a recently unveiled men's line, available online now.
This is the work of a former fashion-magazine stylist who has been scouring local estate sales to find you your next great jacket/pair of pants/Halloween costume. She specializes in gently used pieces from another era, so naturally, the items are limited—don't be surprised if you see the disclaimer "one in stock."
Here's what you'll find: retro V-necks and plaid button-downs that would look just as good whether you're perusing the galleries in Wynwood or taking in an outdoor movie at the SoundScape. Or a
Top Gun Aviator Leather Jacket
you can throw on with a pair of navy jeans for a Basel dinner at some downtown penthouse (or, you know, for your Maverick costume). It might not turn you into an ace pilot, but it will give you a certain late-'80s swagger.
And you can't put a price on late-'80s swagger.