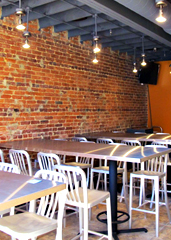 The scene: 2:30am. H Street. Having left the warm confines of your latest beer parlor, you find yourself beset by two unpleasant sensations. The blustery, late-night chill hitting you full force (your Russian Army overcoat hasn't made it out of storage). Also, an intense need to rehydrate.
Here to solve both problems:
Pho Bar and Grill
, a nearly all-hours haven for warm Vietnamese broth, opening Tuesday.
Now, they will be open at 11am, so if you have some less nocturnal business on H, you could swing by for a quick banh mi to go (like the
Vietnamese Special
, with pork loin, Vietnamese bologna and pâté) and a bubble tea. They'll even start delivery service in a couple weeks.
But more likely, you'll make this former ice cream shop and arts studio—now done up in lots of steel and brightly painted brick—either your first or last stop at night. After a quick trip to the counter, you'll take a seat at one of the communal stainless steel tables and await your
giant bowl of broth
, with chicken, Vietnamese meatballs, even veggies and tofu.
Curious type that you are, you'll probably get to wondering what's upstairs. That would be a long black bar, which soon enough (probably about the time they start delivery) will be fully stocked and licensed, including an array of Asian beers.
Which go great with soup.