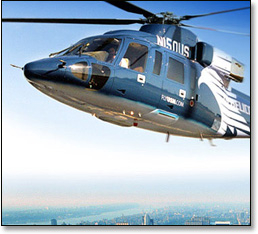 Getting to the airport is a bitch. Between the backed-up Van Wyck, your late conference call and your hangover from last night's bender, it's a wonder you ever make your flight on time.
That's why when we heard that
US Helicopter's
new heli-taxi gets you from Manhattan to JFK in eight minutes, we had to try it.
So we hopped on the 200-mph Sikorsky S-76 blue chopper and...it got us there in eight minutes flat.
Better yet, the heli-taxi commute is a breeze—the helicopter "check-in" takes just five minutes. When you land at the JFK heliport, you're shuttled to your terminal for security check-in, but if you're flying American (US Heli's partner) you go straight to your gate, which means you're spared the prospect of a full body cavity search (we know on some level you're disappointed).
As if designed for the perpetually late, you can call as close as 15 minutes ahead to reserve room on the 8-man chopper, which leaves every hour on the hour (from 7 a.m. to 7 p.m.).
Throw in killer 1,000 feet aerial views of the city and the fact that you can tell your friends that you just "choppered in" to the airport, and we think you'll find there's a little bit of AirWolf in all of us.