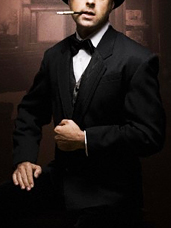 We've seen your blueprints, sketches, mock-ups, dioramas, computer-generated images and full-scale clay models.
There's real potential for a great Halloween costume here.
But potential alone won't dress you up like an undead American Gladiator.
For that, you'll also need an army of personal assistants.
Introducing the
Halloween Costume Concierge
, a first-of-its-kind, full-service outfit that'll handle the ideating/shopping/delivering/tailoring aspects of contest-winning costume construction, available now on
Perks
.
Aspiring sexy cops need not apply. Unless you're the sort who wants a working walkie-talkie, department-issue handcuffs and a bomb-sniffing dog. Or if you merely seek to elevate a costume from something elaborate to something pyrotechnically capable.
You'll begin by setting up a consultation over email (incidentally, the first and last time you'll lift a finger during this process). Ideas will be brainstormed. Obscure pop culture references will be mined. Then, based on your body type, propensity for face paint and willingness to dress like an animal, the perfect costume will emerge.
And while you busy yourself with tasks best tackled without wearing a cape (pumpkin spying, party scouting, French maid entourage hiring), a stable of personal shoppers will scour the city for all the necessary components of your getup. Once all the pieces are in place, everything is hand-delivered and fitted to your exact specifications.
It's important your Cobra Kai gi hugs you in all the right places.