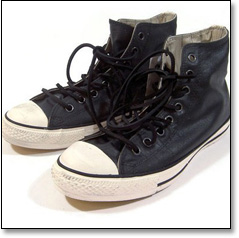 The truly successful in life know that staying just one step ahead...is really falling a few steps behind.
So, even without a cloud in the sky, you're still prepping for the possibility of tonight's torrential downpour...or any clouds that may gather in the future. And so is John Varvatos—take a look at his
Chuck Taylor All-Star Painted Rubber
, part of the new fall collection shipping now to John Varvatos stores nationwide.
The time-tested classic shape you know and love is pretty much intact. But instead of sheathing your feet in that canvas—historically no match for even the most feeble puddle—you'll find the new model's painted rubber brings the Chuck Taylor far closer to a trusty pair of galoshes. Except for, you know, they look good. (Been a while since you saw rain boots with leather laces.)
Of course, if you prefer your footwear a bit less...rubberized, the shoe also comes in black-gray stripe and black-white incarnations, if you're willing to put up with a little less water resistance.
Then again, "Paint It Black" is a classic for a reason.