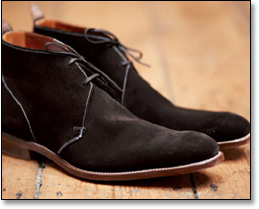 You've always been a fan of a calculated British invasion, at least on the culture front. There's Michael Caine, the Beatles and...Mr. Bean. Of course, it's important to choose your imports wisely.
Introducing
Grenson
, a newly arrived British marque that just happens to be one of the best cobblers on either side of the Atlantic, hitting stores tomorrow.
Forgoing petty tasks like marketing and selling shoes to Americans, Grenson has spent the last 140 years focusing only on shoecraft—including a stint making British soldiers' boots in WWII and a more recent collaboration with
rag & bone
. They hand-stitch their shoes from calf leather, burnish each pair to add color and Goodyear-welt the shoes together for strength (think of it as kicking the tires...). Which means you get the quality British brogues you've been looking for to take your shoe game to the next level this fall—without a trip across the pond.
Your only real decision is whether you're after a wingtip lace-up (our favorite: the
Albert
, in cognac, naturally) from the bench-made Rose Collection, or a Chelsea boot (the
Leach
, in polo brown suede) from the more relaxed and less...aristocratic Rushden Range.
It's the perfect shoe for England's green and pleasant land—or New York's concrete jungle.