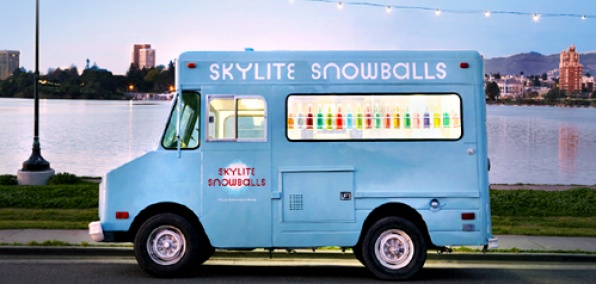 The signs are there: consecutive fog-free mornings, jacketless nights, sundresses in full effect.

Which means it's time. Time to pack an entire three-month summer into three days.

Step one: this.

Meet Skylite Snowballs, an ice cream truck/snowball-slinger ready to host your next cocktail pool party, booking now.

Think of it as your own personal Good Humor truck. Or actually, think of it as your own private, ice-laden open bar. On wheels.

You'll start by calling them up and requesting they appear in your backyard, say... tonight. From there, you can have endless Baltimore-style snowballs—meaning somewhere between a shaved ice and a snow cone, topped with marshmallow cream or chocolate—for at least two hours, or until your tongue's numb, whichever comes first.

You'll have your pick of more than 30 standards (Four Barrel Coffee, TCHO Chocolate). Or you can request your own unique flavor—maybe horchata with bourbon, or lime with tequila (margarita-style)—and their artist-in-residence (okay, it's a former Chez Panisse pastry chef) will create as many all-natural syrups as your imagination can concoct.

Cue brain freeze in 3, 2, 1...