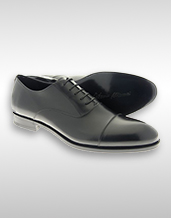 Sure, we could probably tell you what to put on your feet to slosh through 35-degree puddles. And we might.
But for now, we'd like to tell you what to wear when you'll be avoiding puddles—the kind of bespoke, hand-stitched shoes that only the Italians can provide.
Enter
Monita Italian Leather
, now open in Tysons Galleria to let you place your own custom order with an old-school shoemaker in Italy.
This is exactly the kind of richly appointed, wood-paneled shop you'd expect to find in the Galleria. But here they deal with a half-dozen or so Italian brands that you've probably never heard of. It's okay, because many of them amount to little more than an old Italian man and his son toiling away in their Florence workshop (yes, they probably make their own grappa on the weekends, too).
You'll come in here and, well, get your feet measured. Then you'll browse the 50-odd styles on display, from suede oxfords to calfskin Beatle boots to penny loafers. Finally, you'll flip through a book of leather colors and wingtip patterns (you can even opt for two-tone, if you're going for the André 3000 look).
In a few weeks, you'll pick up your new world-beating brogues—hand-stitched, hand-painted, hand-oiled.
And maybe some grappa if you ask nicely.