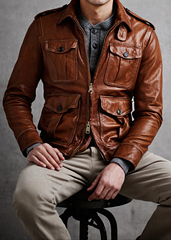 We're starting to think fall is never happening.
Or if it does happen, it'll last for all of about 14 days.
But for those glorious 14 days, you're really going to look the part.
And that's where
Todd Snyder
comes into the equation. It's a foolproof collection of autumn essentials (the trusty oxford, the utility sweatshirt) that looks like it was made while the designer was watching
Monday Night Football
in a New Hampshire cabin in the middle of a pumpkin patch, brought to you by the former creative director of J.Crew and available now at Bergdorf Men's.
The sign of a good fall staple: versatility. You want something rugged enough for a Giants game tailgate. Suitable enough for a motorcycle tour of Italy (it's beautiful, albeit nippy, this time of year). And durable enough to withstand the occasional leaf-pile leisure dive.
Basically, it's the kind of stuff Ryan Gosling might put on before throwing out the first pitch at the ALCS. Or the kind of thing you might wear should an unavoidable apple-picking scenario pop up down the road. Slim-fit Japanese selvage chinos. Double-breasted Savile Row-ian peacoats. Vintage, thrift-store-style military trenches. The foundations of a proper October-to-November closet.
Well, that and hangers.