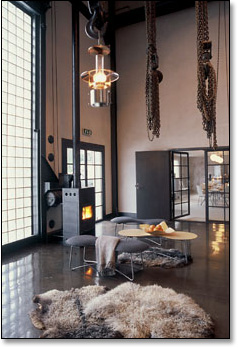 Sweden's greatness spans gorgeous blondes, super-safe cars and actor Stellan Skarsgard.
But perhaps none of those feats is as genius as the country's latest move: turning an abandoned limestone quarry into one of the region's most fascinating hotels.
Let us explain. Until a decade ago, the Swedish military patrolled the Baltic from the tiny windswept island of Furillen, barring visitors from the northern stretch of Gotland, the adjacent, larger island that once housed a major mining outpost. Today, that expanse is home to the ultra-mod
Hotell Fabriken Furillen
, a midcentury industrial complex converted into a resort of unique sophistication, on a landscape straight out of Ingmar Bergman.
In the 18-room main building, austere meets upscale—minimalist décor, Bang & Olufsen DVD players. But beyond the guestrooms, Furillen goes to both extremes. Austere? Spend the night out on the crushed-rock landscape in a tiny "hermit cabin," made from recycled barn wood, with no electricity or running water. Upscale? Right in the factory, Gotland's finest restaurant features destination-worthy meals sourced from local produce.
And finally, arriving later this year, comes the piece de resistance: a floating sauna, promising the steam room you never expected from the Baltic.
Then again, it wouldn't be the first time something from Sweden has made you perspire.
And, no, we're not talking about Skarsgard.