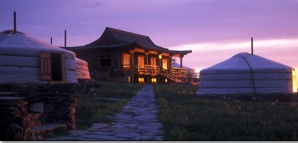 Sometimes you think about just giving it up and leaving it all behind—putting down the crackberry, packing a bag, heading to the middle of nowhere and roaming the land like a nomad.
Fortunately for you, nowhere just got a little more appealing.
Nowhere being...the Mongolian desert.
For a remote nomadic experience like no other, head to the Gobi Desert, an awe-inspiring expanse of sand dunes, vast plains and (to round off any proper desert experience) a plethora of camels.

To do it right, there is no other option than Mongolia's top luxe-nomad accommodations—the Three Camel Lodge deluxe gers, which are traditional round felt tents dating back to the time of Genghis Khan (there's no telling how much more he could have conquered if he'd only had plush throw pillows, hot showers and fully-stocked bars).

Under the shimmering heat, hike the foothills of the Gobi-Altai Mountains, horse-trek the sand dunes or just chill at the Flaming Cliffs. Then play a few rousing matches of the sport you never knew you were born to play...camel polo (if only there was some way to practice in the city). Finish off your days with plates of traditional buuz (steamed horse-meat dumplings) and glasses of arkhi (a milk-based vodka), and sit on your ger's front porch to take in the endless stretch of stars above the desert floor.

Nowhere never looked so good.