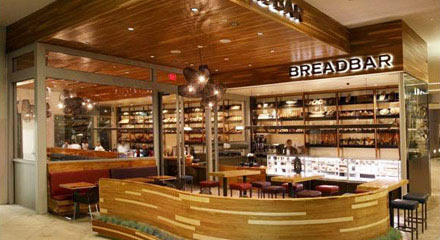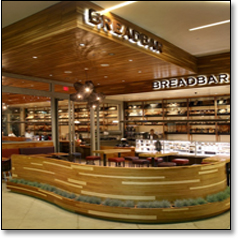 Favorite restaurants, your sex life, the whole of humanity—all things, eventually, must evolve to survive.
So you take notice when a model gets a sitcom, a relationship really helps you
grow
, and a restaurant forges an entirely new identity overnight. Welcome (again) to the new
Breadbar
, debuting today.
You've always regarded the expansive indoor-outdoor Century City bakery as the kind of place that's there for you with well-made (if expected) carb-heavy fare like pastries in the morning and sandwiches later. But as of today, you'll need to start thinking of it as the kind of place that's there for you with enticing (and not at all expected) goods like…
Chicken Lollipops
. And
Beer-Battered Brie Sliders
. And sushi, sake and—sure, why not—
Sake Panna Cotta
.
It all comes thanks to Noriyuki Sugie, a party guest who outlasted the party—his guest-chef stint proved so successful, he just went ahead and took over the kitchen. And not to worry, things have improved in the liquor department as well, with beers like the Japanese
Red Rice Ale
(made with what you'd guess) added to the list.
Because the after-work beer is one thing that will never change.